The FLOWpresso® system is a breakthrough non-invasive natural approach that delivers a 3-in-1 sensory experience, to enhance physical and mental wellbeing and restore inner balance
What is FLOWpresso®?
FLOWpresso® is a uniquely engineered experience, clinically proven to improve sleep and reduce stress, positively impacting the quality of your life. FLOWpresso® operates through a comfortable and snug state-of-the-art bodysuit, applying revolutionary equipment that combines three distinct approaches into one easy, efficient, and effective restorative approach.
The FLOWpresso® 3-in-1 system features:
How does it work?
A nano vibrational support disc is also added to the bodysuit, situated near the neck during your experience. The impact of NVT is influenced by the environmental and mental aspects of life. This is where FLOWpresso® comes in; temperature is one of the main environmental influencers of nano vibrations. The far-infrared equipment used during your FLOWpresso®
experience helps stimulate the interaction between the NVT disc and your body. It changes the speed of the nano vibrations within the body, encouraging inner balance and complimenting the benefits originating from FLOWpresso®. Therefore, the NVT disc is positively impacting the energetic systems that may be out of balance within the body, while also supporting the flow and movement being provided by the FLOWpresso® experience.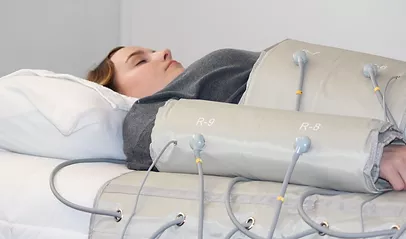 Watch a FLOWpresso® Demonstration
with Kelly!
Check out Flowpresso® Testimonials
from colleagues & clients
(*Note: The use of FLOWpresso does not claim any medical or health benefits. As deep compression, far infrared heat, nano vibrational technology has a positive effect on us humans, it is not considered as health or medical treatment. No medical benefits or cures are expressed or implied. FLOWpresso is not to be used as medical or psychological treatment. Please note that the purpose of FLOWpresso is to be used as a relaxation experience. It may not be related to diagnosis, cure, mitigation, prevention, or treatment of a disease or condition. None of the feedback, summary data, or logging data provided in the software is to be interpreted as medically diagnostic and does not replace medical treatment and diagnostics).