The Back Story
Kelly met Rasmus Gaupp-Berghausen, President of the International Light Association, in Baden-Baden Germany, while attending "Medicine Week", Europe's largest and oldest conference on BioRegulatory Medicine.
​Rasmus is the Founder of "Sound of Soul", an incredible device that helps promote a feeling of inner peace by surrounding them in the sound and color light of their own heartbeat.
Rasmus was born to two musicians in Bregenz, one of the most musical cities in the world. With the heart of a musician and the brain of a scientist, Rasmus is also the heir apparent to the work of one of Kelly's idols: Dr. Masaru Emoto of Japan, pioneering researcher and author of The Hidden Messages in Water.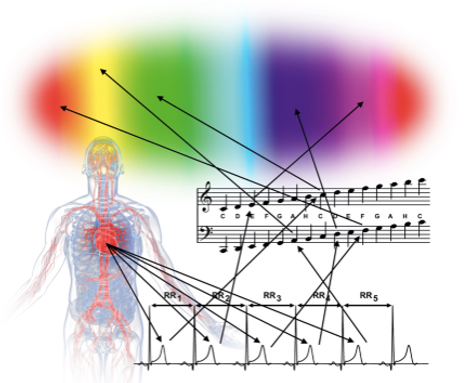 Through Sound of Soul, one gets to experience their own inner beauty.  
​"The sounds and colours you experience in the Here and Now are based on the continuously changing frequencies of your heart rate variability, which are converted by Sound of Soul into audible frequencies / tones. A complex, newly developed approach, that allows real-time conversion of the body´s own vibration into music, colour and light. You are making the music, your heart, your inner vibration."
- AquaQuinta
Sound of Soul by AquaQuinta® can contribute positively to*:
Feeling of relaxation and reduced feelings of stress
Releasing internal tensions, fears and worries
Strengthening inner peace and balance
Relaxation during pregnancy
Ease of falling asleep and sleeping through the night
Improvement of concentration and creativity
Support in the "process of letting go"
Learning to be in the here and now
(*Note: The use of Sound of Soul does not claim any medical or health benefits. As music and sound has a positive effect on us humans, it is not considered as health or medical treatment. No medical benefits or cures are expressed or implied. Sound of Soul is not to be used as medical or psychological treatment. Please note that the purpose of Sound of Soul is to be used as a wellness and entertainment tool, using sound and color light. It may not be related to diagnosis, cure, mitigation, prevention, or treatment of a disease or condition. None of the feedback, summary data, or logging data provided in the software is to be interpreted as medically diagnostic and does not replace medical treatment and diagnostics).
Where to Experience Sound Of Soul
If you are not in the Southeastern PA area and able to visit True Wellness, there is still a way to experience the magic of Sound of Soul! Please visit any of the following practitioners who have been personally trained by Kelly.  
Inquire about Sound of Soul for your practice!